Hearing a favorite NFL player is slated to be on the cover of latest installment of Madden is enough to leave a fan in a cold sweat.
In video gaming and football circles it is known as the "
Madden Curse
," and it usually results in injuries or disasterous seasons for that season's cover boy.
The curse is hit or miss when it comes EA's NHL series. Some cover athletes have suffered devastating injuries or disppointing seasons. Others have experienced career years. The most notable has to be
Chris Pronger
, who won the Hart Trophy as league MVP in 1999-2000, the year he was on NHL's cover. Strangely, as Chicago
Blackhawks
winger
Patrick Kane
recently discovered, the "curse" of NHL cover boys extend to run-ins with the law.
EA published generic action shots on its NHL series covers until 1997 when Florida
Panthers
goaltender John Vanbiesbrouck became the first to have the cover to himself.
Below is a breakdown of EA's NHL cover athletes and their highs and lows from that season: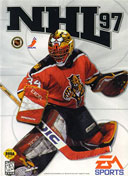 NHL '97 - John Vanbiesbrouck
Season: 1996-97
A year after guiding his team to the Stanley Cup Finals, Vanbiesbrouck backstopped the Florida Panthers to their best start in franchise history. The Cats opened the season 8-0-4 and boasted a 15-3-6 record through the first two months of the season. Down the stretch, Florida collapsed. The Panthers won just one of 10 games in late February and were defeated by the New York
Rangers
, 4-1, in the first round of the playoffs. Florida has not won a playoff game since.
NHL '98 - Peter Forsberg
Season: 1997-98
Forsberg had an outstanding season, earning first-team all-star honors and finishing second only to Jaromir Jagr in the scoring race. His 91 points were the fourth highest total of his career. The following season, Forsberg suffered a shoulder injury which limited him to just 49 games.
NHL '99 - Eric Lindros
Season: 1998-99
Like Forsberg, Lindros had an exceptional season the year he graced the NHL cover. The
Flyers
captain registered his fourth 40-goal season and finished with at least 90 points for the third time in his career. Things turned in March, however, when Lindros suffered the first of many concussions which would ultimately end his career. He missed the Flyers' last 18 games and his relationship with then-GM Bobby Clarke began to deteriorate. The following season he suffered a potentially fatal rib injury and openly criticized team doctors. The Flyers stripped Lindros of his 'C.'

NHL '00 - Chris Pronger, Markus Naslund
Season: 1999-2000
For the first time, EA released North American and European versions of the game. The cover athlete for the North American edition, Pronger had a career year with 14 goals, 62 points and a plus-52 rating. He won the Hart and Norris Trophies. Naslund's production dipped from the previous seasons. Both players saw their luck go in opposite directions the following season. Pronger missed 31 games due to injury, while Naslund experienced a breakout year with his first 40-goal season.
NHL '01 - Owen Nolan, Jere Lehtinen
Season: 2000-01
Regarded as one of the league's more durable power fowards, Nolan missed 25 games the year EA selected him for the cover of NHL's North American edition. Nolan dealt with nagging abdominal injuries at the start of the season. In February, he received an 11-game suspension for elbowing Dallas' Grant Marshall in the neck. Lehtinen, meanwhile, rebounded from a disappointing 1999-2000 campaign in which an ankle injury limited him to just 17 games. He recorded his third 20-goal effort in five seasons.
NHL '02 - Mario Lemieux
Season: 2001-02
Lemieux, who came out of retirement the previous season, appeared in just 24 games with the
Penguins
because of a nagging hip injury. He underwent surgery in November and returned in time for the 2002 Winter Games. Lemieux won a gold medal with Team Canada in Salt Lake City, but received criticism for putting his Olympic ambitions ahead of the Penguins, who finished last in the Atlantic Division that season.
NHL '03 - Jarome Iginla
Season: 2002-03
One season after posting a league- and career-high 52 goals, Iginla's numbers took a dive. The
Flames
winger suffered a finger injury during a fight early in the season and it hampered his play. Iginla finished with a respectable 35 goals and 67 points, but many considered the effort a disappointment given his breakout season the year before.
NHL '04 - Dany Heatley, Joe Sakic
Season: 2003-04
EA originally chose
Joe Thornton
for the cover, but decided to forego the decision after the center was accused of assaulting two police officers. EA opted for Heatley as his replacement. Shortly after the game shipped, Heatley was involved in a car crash which resulted in the death of teammate Dan Snyder. Midway through the season, EA changed its cover athlete yet again, this time selecting Joe Sakic. The
Avalanche
captain finished third in league scoring with 87 points and earned a gold medal with Team Canada at the 2004 World Championship.


NHL '05 - Markus Naslund, Olli Jokinen
Season: 2004-05
Despite a lockout, EA continued with the NHL series, again with North American and European versions of the game. Both players experienced strong seasons in Europe. Naslund, who appeared with MoDo (Sweden) that year, posted 17 points in 13 games. Jokinen split time among EHC Kloten (Switzerland), Sodertalje (Sweden) and HIFK (Finland) and finished with 46 points in 45 games.
NHL '06 - Vincent Lecavalier, Tuomo Ruutu
Season: 2005-06
Lecavalier experienced his best season to date, posting 35 goals. His numbers were on par with previous seasons, but Tampa Bay, the defending Stanley Cup champion, failed to advance past the first round of the playoffs. On the international front, Lecavalier made his Olympic debut at the 2006 Winter Games in Torino. He returned without a medal. Ruutu, who graced the cover of the European edition, saw his season decimated by back and ankle injuries. He appeared in just 15 games.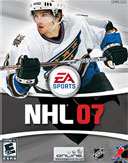 NHL '07 - Alex Ovechkin, Teemu Selanne, Henrik Lundqvist
Season: 2006-07
All three players had outstanding seasons. Ovechkin, the North American cover athlete, and Teemu Selanne, the player on NHL's Finnish edition, each recorded at least 40 goals and 90 points. Lundqvist, the cover athlete for the Swedish edition, appeared in 70 games and won 37. Selanne won a Stanley Cup as a member of the Anaheim
Ducks
this season. It is worth noting this is, so far, the only season in which Ovechkin has failed to score at least 50 goals.
NHL '08 - Eric Staal, Jaromir Jagr, Henrik Zetterberg, Teemu Selanne, Mark Streit
Season: 2007-08
Staal rebounded from a disppointing 2006-07 campaign, but found himself in the headlines prior to the season when he and 12 others were arrested during a rowdy bachelor party. Jaromir Jagr saw his relationship with the New York Rangers deteriorate over contract issues. Despite a respectable 71-point season, the Rangers declined to pick up his option for the following season. On the flip side, Selanne (Finland), Zetterberg (Sweden) and Streit (Switzerland) each had good years. Selanne re-signed with the Ducks in mid-season and finished with 23 goals in 26 games. Zetterberg won his first Stanley Cup with the
Red Wings
. Streit experienced a breakout season in Montreal and too advantage of his success by signing a five-year, $20.5 million contract with the New York
Islanders
as a free agent.
NHL '09 - Dion Phaneuf
Season: 2008-09
One year after posting a career-high 60 points and finishing as the runner-up for the Norris Trophy, Phaneuf posted a career-low 47 points. Phaneuf, who never posted a minus rating in his first three seasons, finished minus-11.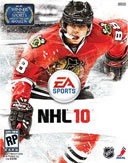 NHL '10 - Patrick Kane, Mikko Koivu, Mikkel Boedker, Mark Streit, Nicklas Backstrom
Season: 2009-10
Kane, EA's North American cover athlete, is the first of this group to make headlines. He was arrested in Buffalo on August 9 for allegedly punching a cab driver over 20 cents change. The Blackhawks winger faces felony robbery charges and two misdemeanor counts. EA has slated Koivu to be on the Finnish version of the game, Boedker on the Danish version, Streit on the Swiss version and Backstrom on the Swedish version.